Podcast: Download (Duration: 1:08:52 — 63.1MB)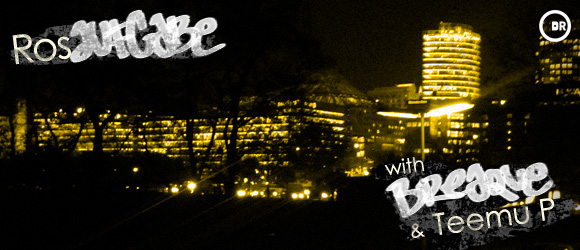 After seven episodes of banging 128 BPM beats, some of you could probably use a break. So here's something completely different: a journey into slow, slow house sounds, played back2back with the notorious Teemu P. Roskooppi + Hausaufgabe = Rosaufgabe?
As Teemu joined us for his quarterly visit to Berlin, we decided to repeat our recipe from Roskooppi #20. No planning, no preparation, just hitting record and seeing what we can come up within the next hour. Did it work? Listen and find out.
Hausaufgabe will return next week with just myself on the decks, bringing to you some upbeat house sounds to get you through to 2012!
01. Naum Gabo – Dimitri's Darkness [Fright]
02. Tal M Klein – Deep Dark Place [Slope Music]
03. San Proper – Caught on You [Rush Hour]
04. Giovanni Damico – Can Be Other (Sleazy McQueen Remix) [Home Audio]
05. Creative Swing Alliance – Get Down [City Fly]
06. Cocolores – Fire Eyes [Exploited]
07. Moulinex – Sunflare (Extended Dub) [Gomma]
08. XDB – Sunda [Dolly]
09. JusLo – Naked System [MI MO]
10. Jazzanova – Look What You're Doin to Me (MCDE Remix) [Sonar Kollektiv]
11. Death on the Balcony – Another Illusion [Silver Network]
12. Feindrehstar – Night Rainer 1 [Musik Krause]
13. Cyclist – Point Blank (Neighbour and Elan B Freestyle Acid Dub) [Home Breakin]
14. The Modernist – Remodernist [Kompakt]
Full link to the Breaque – Hausaufgabe 08 (feat. Teemu P) page