Podcast: Download (Duration: 1:02:13 — 85.4MB)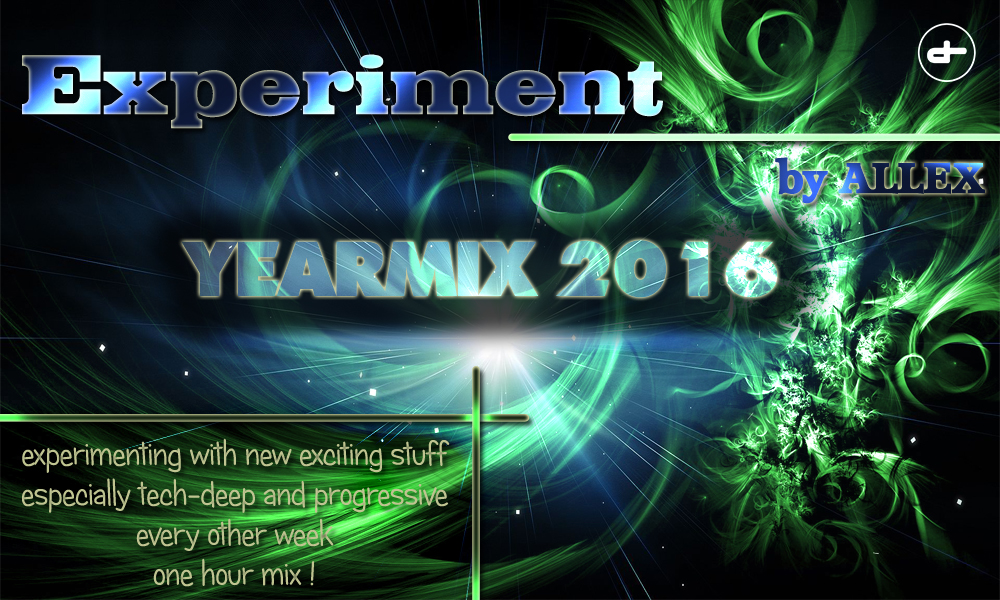 As the year 2016 is coming to the end, it's time to calculate of what has happened in last 12 months. Musically, it was a good year for Allex, who brought you numerous episodes of his Experiment podcast, released lots of new house tracks and also his record label Experiment Records launch in June was a massive landmark of his successful year. So let's have this Yearmix 2016 as a little present for all the support from you.
Counter stopped at 85 tracks used this year. So let's have some fun!
Merry Christmas!
Tracklist:
1. Colour Vision – Pina Colada
2. Aeroplane & Purple Disco Machine – Sambal
3. Journeyman – Undone
4. Max Lyazgin, Hugobeat – Read Me Wrong
5. Cotry, Studio Deep – Over & Over (Max Lyazgin Remix)
6. Dosem – Hidden Elevator with Cozzy D – At The Rave with Gab Rhome – Cashmere
7. Used Disco – No Worries
8. Nora En Pure – Morning Dew with Cozzy D – At The Rave
9. OMR, Adry – Just Fine with Kaiserdisco – Danza Danza
10. Murat Kilic – To Love Again with Kaiserdisco – Danza Danza
11. Tensnake – Tazaar with Isaac Tichauer – Higher Level (Bicep Remix)
12. Kellerkind – That Sound
13. Isaac Tichauer – Higher Level (Bicep Remix)
14. Brynjolfur – M25 (Mihai Popoviciu Remix) with Hunzed – DRhapsody – Hidra
15. Saccao, Anton Ishutin – Under Control with Hunzed – DRhapsody – Hidra
16. Fernando Olaya – Breaking Bad
17. Allex – Harlequin
18. Sneaky Sound System – All I Need (Set Mo Remix)
19. Apres – Prophet
20. Krista Richards, Twenty Feet Down – Love Right Here (OMR & Adry Remix)
21. Throttle – Money Maker
22. Luca Debonaire, Leandro Da Silva – Planetary Whistle
23. Husp – The Flute (JJ Mullor Remix)
24. Alex Kenji, Samuele Sartini feat. Neja – Burn with Allex – House Machine
25. Eddie Thoneick – The Snake with Allex – House Machine
26. Armand Van Helden, Zhao, Ant LaRock – Sacred Geometry
27. Allex – House Machine
28. Allex – Spectacular (Melodic Mix)
29. Barber – Tanz Freq
30. GruuvElements – Solomon Vandy
31. Supernova – Mother House
32. Reza Golroo – All Night Long (Mafia vs. Mood Crew Remix)
33. Charles Ramirez – On The Streets
34. Dani Hageman, Victoria RAY – Let Me Hear You Say (Rene Amesz Rework)
35. Stefano Noferini, Larsen Factory – Your Hands Up (Oscar L Remix)
36. Supernova – The Box
37. Marco Lys, Sonny Wharton – I Am Going Home
38. CamelPhat – Reverse It
39. Prok & Fitch – Movin'
40. Platinum Doug – Overdose with CamelPhat – Reverse It
41. Ben Remember – Remote Places
42. Luca Debonaire, Leandro Da Silva – Starlight
43. Riva Star – Raw Feel
44. Pig&Dan – The Saint (Job San)
45. Skream – Still Lemonade
46. DFormation – Balkia
47. Moshic – Fire In Your Eyes (Kintar Remix)
48. Teenage Mutants – EdOne – Alive
49. Teenage Mutants – The Question
50. Matt Lange – Basimilus
51. Tom Leclercq – Payback (Waitz Remix)
52. Mike Vale – Concept Of Reality
53. Dusky – Bitter Lake
54. CamelPhat – Trip
55. Belocca – Budai (Marco Lys Remix)
56. Gabry Venus feat. Inaya Day – When I'm Alone (The Cube Guys Dub)
57. Nicole Moudaber, Skin – You Like This (Paco Osuna Remix)
58. Crespo, David Museen – Make Me Feel
59. Yousef, Harry Romero – I'm Behind You
61. Alberto Ruiz, Luca Gaeta – Atlantic City
62. Ben Remember – Always
63. Abel Aguilera – Get Da Fuck Outta Here
64. Raffaele Rizzi – Skynet (Chus & Ceballos Remix)
65. Leo Lippolis – Push
66. Mark Knight – VoulezWho?
67. Andrea Roma, Paul Mirror – Battery Pack
68. Leo Lippolis – Macaco
69. Phunk Investigation, Alex Di Stefano – Tribal Zone
70. Namtrack & Karloss – Paper Clip
71. Sebastian Xottelo – Make The Hustle
72. Luca Marchese – Imaginary Beat
73. Ruben Mandolini – Orange Country
74. Ben Remember – Shaker
75. Kostas Maskalides – Come On
76. Marc B – Revival
77. Drexler – Your Soul
78. Nicole Moudaber – Move A Little Closer
79. Nicole Moudaber, Skunk Anansie – Love Someone Else
80. Ramon Bedoya – Trompeta
81. Green Velvet, Harveey McKay – Magnetize
82. Dario Nunez – Sa Caleta
Allex on Beatport
Allex on Facebook
Allex on Twitter
Experiment Records